Radishtowear.com ~ Detox with JUIZ~S
As some of you might have already spotted on Instagram, I just finished a three day detox with JUIZ~S. Curious how it went? Read on and I tell you everything!
Eating healthy is something that I think is very important. I'm super busy and if I don't eat healthy foods, I don't have enough fuel in my body to keep on going. Lately I've been doing it differently though. I've been slacking in the gym (by not going at all) and I've been eating everything I was craving and that included lots of not so healthy stuff. To get back into my old routine I've teamed up with Juiz~s and did this three day detox.
The Detox
At Juiz-s they offer two types of detoxes. The first type is an all day detox, which includes seven juices everyday. You don't eat anything solid. The second type is called Detox Till Diner. This one includes five juices per day and at night you can enjoy a healthy vegetarian meal. They provide recipes so you can make it yourself. I chose the first option, because I figured If I was going to do this anyway, it's better to do it completely. Now, you can choose between a 3, 5 or 6 day detox. I decided to do just three, because I wasn't looking to lose weight, but just a change in my routine. Therefore three days was all I needed :).
Day 1 with Juiz~s:
I started on Monday. First juice of today was the Liquid Salad Spinach. I actually liked this juice a lot, but after an hour or so my belly started craving solid food and I got a little nauseous after drinking a big cup of green tea. Some fresh air did some magic though and I was ready to take on Juice number two; my favorite of this cleanse! It's called Liquid Salad Basil and tastes really fresh and lovely. Because I have to drink seven juices a day, I don't really get hungry much, because when my stomach starts to protest a bit it's already time for another juice. The other thing that helped me out a lot was the fact that I had a busy day with lots of work and classes at the University. I even thought of going to the gym, which I ended up not doing. Gosh, I really need to get back into routine, but sometimes I find it so hard to make time for it in between classes, schoolwork, working, blogging, shooting etc. You've got any tips on that?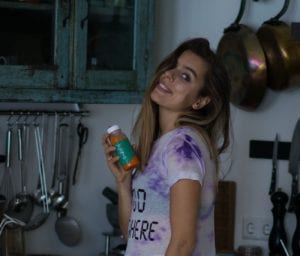 Day 2 with Juiz~s:
Ok. I ate an apple. I was literally SO hungry that I just had to eat something. So I ate a big, organic yummy apple and loved every bite. The juices are nice, but I just really wanted to chew on something. Not that I mind that I did it though, because I believe when your body is telling you it just needs something solid, you have to provide exactly that. Oh, well. There's always tomorrow. We'll see how it goes.
Day 3 with Juiz~s:
I'm super proud of myself for getting to this day. I've been having a tiny headache in the last few days and I was feeling really cold. Both are side effects of the juice cleanse and will disappear once I'll go back to solid foods. My least favorite juices are definitely the nut milks. They're really watery and I'm used to nut milks being a bit thicker and sweeter. Maybe I'm just a bit spoiled, because I make these types of milks all the time myself. Oh! Incase you were wondering, I lost exactly 1kg which I'll probably gain after eating solid again.
I've got something great for you!
Do you want to take on a juice cleanse too? I can get you a 10% discount! Just use the coupon code: #radishtowear at your checkout in their webshop.